Our Goal
GTA teaches young people how to identify where money habits factor into their unique life goals, constraints, risk tolerance and preferences. Students learn how to quantify the long-term costs of risky decisions, from buying lottery tickets and giving friends a discount at their part-time job, to choosing to participate in the high-risk informal economy.
Using money as a lens to talk about decision-making, Game Theory Academy:
Improves participants' ability to act in their best interest when making financial and other decisions.
Increases the ability of young people to navigate the economy safely and intelligently.
Reduces youth participation in risky means of accessing income by paying a stipend.
Enhances the capacity of youth-serving organizations to offer a comprehensive range of services that guide young people successfully through the critical transition to adulthood.
Our Results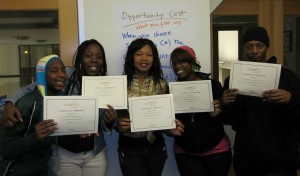 We administer a 30-point survey before and after GTA's programs, measuring skills, knowledge, behavior, attitudes and confidence among youth participants in navigating the formal economy. We also closely track participation rates and demographic data, to ensure we are meeting our mission both in whom we serve but also in how well we serve them. Among graduates in 2012, 85% said they developed a better understanding of their relationship with money. 97% said that GTA helped them learn how to make better decisions in all areas of their life.
GTA serves 300 youth per year, in Oakland, Richmond and San Francisco. 92% say they would recommend the class to a friend.
95% say GTA had strengthened their ability to make good decisions about money and 89%noted they already see a change in the way they make decisions
87% said the class put them in a better position to think for themselves when making money decisions.
95% reported that GTA's class fulfills its mission to arm young people with better tools to make life decisions.
80% of students remain with GTA through the end of the program. This level of participant retention is phenomenal among a population that has given up on the educational system.
An overwhelming 98% said there is a need for more programs that teach young people about money.